'We are the Champions' - August Update
This is the first in a series of monthly blogs, designed for us to share updates from our Community Champions! Volunteer and Engagement Officer Vicky will be out meeting current and new Champions to see what they have been up to.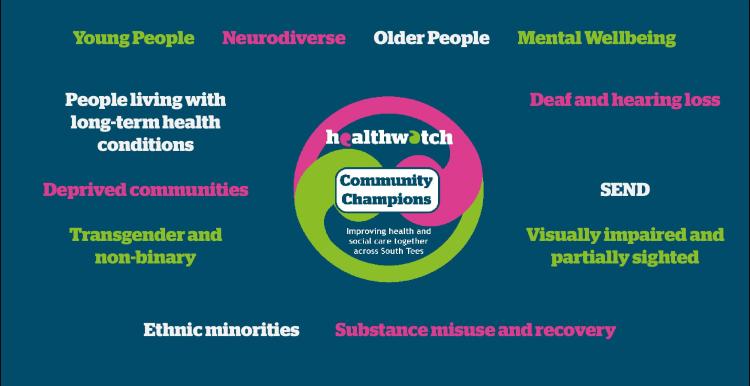 Kevin Forsey - 
First up is Kevin Forsey Our new Community Champion who works for Middlesbrough Council's Adult Social Care and Health Integration team. 
When we sat down with him, we were particularly impressed by his conversation regarding male domestic abuse survivors - from a lived experience perspective. 
Kevin plans to collaborate with lots of organisations and individuals in future, and his feedback will be really beneficial for us. 
He is currently working with Hart Gables (One of Teesside's leading LGBTQ+ organisations), so we'll be updated on the impact of that relationship as things progress. 
Welcome aboard Kevin, and good luck! 
Terry Doyle - 
Last month, we also had an update from Terry Doyle  - a wellbeing practitioner who has been a Champion for some time now. 
He's recently been involved in a project based at Middlesbrough Town Hall, called the North East Opera Community Choir.  It's open to adults of all ages, and you certainly don't have to have professional vocals to take part! (Click the link to see how you can get involved)
Terry is also a master of Tai Chi, and has helped many individuals with his wellbeing and mindfulness sessions. Click here to view his movement and breath work for mental health and wellbeing. 
Andrew Richardson - 
Last - but by no means least - in this months blog, we're updating you on the fantastic work of local student (and Community Champion), Andrew Richardson.  
Andrew is a final year PhD student at Teesside University, whose work involves  investigating the sedentary lifestyles of the Tees Valley.
He is set to submit his PhD near the end of the year and has kindly agreed to share some of his published findings from a recent conference he was at.
Attached in the PDF link below is his work outlining by sex and council the level of activity and inactivity for Tees Valley residents using the International Physical Activity Questionnaire (IPAQ). Residents were divided into three categories of activity by Low / Moderate / High based upon how active or inactive they were. 
Data was collected between October 2020 - February 2021 and forms one part of Andrew's thesis to understand why is driving sedentary behaviors across the Tees Valley and how it differs by sex, age, employment, council, and ward for the residents. 
As you can imagine, this data is extremely important to the work of Healthwatch South Tees, especially when portraying how local people live their lives, and the reasons why various health issues come in to play. 
We think you'll agree, this information is hugely insightful.