Meet our Healthwatch Community Champions!
Read about our Community Champions and why they're passionate about improving health and wellbeing across South Tees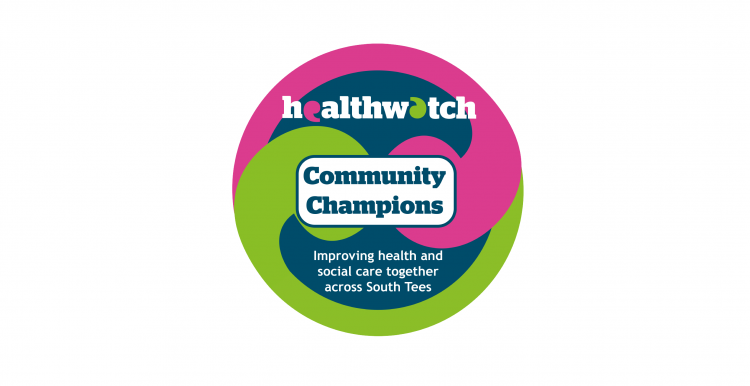 Ellie Lowther
I have achieved much in the way of furthering understanding of trans and gender variance in our communities. I deliver highly respected workshops and training around the UK via her social purpose company Essential Learning Curve Ltd.
I founded the first Trans specific charity in the North of England, named  'Trans Aware', and created the first trans-specific safe house project in the UK. I was also a finalist in the 2019 National Diversity Awards in the Positive Role Model category. I'm passionate about healthcare issues for all though specifically in regards to those seeking help around issues of gender dysphoria and transitioning.
You can contact Ellie at ellie@essentiallearningcurve.com
Sarah James
I'm a Social Prescribing Link Worker for the Greater Middlesbrough Primary Care Network. GPs make referrals to the Social Prescribing Team for patients who wish to access support in a number of areas including metal health & wellbeing, social isolation, living with long term health conditions, bereavement, have caring responsibilities or social care needs. We get an insight into the services they access and care received. 
Andrew Richardson
I am a PhD student at Teesside University, my work is titled "Investigating the Sedentary Lifestyles of the Tees Valley". My research interests also include image and performance enhancing drugs, body image and health inequalities. I am also a PT and Gym Instructor at Teesside University Sport and Well Being Department. Finally, I have experience coaching and working with elite athletes, drug and alcohol clients and members of the public regarding their fitness or sporting goals. 
I decided to become a Community Champion to be able to give back to the local area outside of the university population which I am accustomed to, meet new people and help promote and active and healthy lifestyle, by showing people that there are multiple ways to achieve this rather than the standard approach of "going to a gym". 
I think the immediate benefit for me will be to open my professional network more to the wider health organisations based across South Tees. From a personal benefit it will help expand my own knowledge and understanding to the barriers to an active and healthy lifestyle that residents may be facing. 
I am looking forward to working with like-minded and passionate people who want to make a real community impact surrounding activity and health promotion. 
Rachel Shafto
I began volunteering with Action on Hearing Loss back in 2009 (when it was known as RNID) as a way to meet people and practice my British Sign Language. What began as a couple of hours a month quickly evolved into several hours a week and in 2015, I was asked to apply for a 1 year contract to cover maternity leave for one of the staff members in Tyneside. After several months of commuting between Darlington and South Shields every day, the opportunity to facilitate Middlesbrough Deaf Centre came up and I jumped at the chance.
We run several different types of social groups at the centre as well as provide information talks, awareness raising, and campaigning to improve access for the Deaf community in the Tees Valley.
As someone who is hard of hearing, I know just how difficult and isolating things can be in everyday life as we live in a world that is built around sound and working with Healthwatch gives us a fantastic platform to inform our local communities that there is life after Deaf!
Annalice Sibley (The Recovery Advocates and Consultants)
I work with individuals in Teesside who have become marginalised through substance misuse and mental health issues and many are also either at risk or experiencing homelessness. We provide wrap around advocacy support to assist the clients at the start of their recovery journey, we will help with benefit appointments, tribunals, GP appointments, housing related issues and issues relating to family matters.
I became involved with Healthwatch after it was suggested that I could provide feedback about the experiences my clients were having while using local services. I also wanted to be involved so I could find out about what else is going on in the local area that could be of interest to TRAC and our clients.
I feel that being involved with Healthwatch provides our clients with a degree of confidence knowing that we are linked to an organisation that oversees care in the local area. Being linked to an organisation like Healthwatch means people will have more trust in our organisation and they also have the knowledge that if they want to report anything, they can. I feel that being a community champion has allowed me to gain a greater knowledge of what is going on in the local area.
Karen Winspear
I am a local community fitness instructor from East Cleveland. I deliver fitness classes for every age and ability across Skelton & Brotton and deliver seated chair (dementia friendly) classes for older adults in care homes and assisted living venues. My passion is children's fitness and as paediatric inactivity rises, I enjoy engaging children with alternatives to sport based curriculum. I also run Senses Wellbeing Centre.
I got involved with Heathwatch to try and help spread the word across Redcar and Cleveland. In 2004 I set up Skelton Baby & Toddler Group (volunteered) and saw hundreds of families across its 8 year run. At this time there was no Facebook or social media and the community came together via word of mouth, posters and the local press. Now I get to see hundreds of faces a week in my community fitness sessions. We are at a time when adverts are at our fingertips and information can be passed through shared posts and closed targeted groups, I can assist in quick delivery of information to the residents across not only Redcar and Cleveland but the whole of the Tees Valley.
Find out more about Karen's work on the Senses Wellbeing Centre website.
Lewis Winton
I'm an individual fuelled with passion, enthusiasm and an unrivalled drive to influence social change and challenge injustice for blind and partially sighted people in the community.
Being visually impaired myself, I comprehensively understand that living in a world which wasn't designed for people living with sight loss, can be incredibly challenging both physically and psychologically – therefore,  in my role current role as Community Connection Coordinator for the Royal National Institute for the Blind (RNIB), I aim to be the voice of the visually impaired community and challenge injustices which need to be addressed, whilst also continuing to connect more and more visually impaired community members to combat social isolation.
By teaming-up with Healthwatch South Tees, we can ensure health and social care provisions throughout South Tees hear the strong voice of the visually impaired community and all community members have equal access to support they require.