NHS Long Term Plan Engagement
At a time of increasing pressure on NHS services and financial budgets, this research highlights how people want to be more involved in the management of their care and to make joint decisions with professionals.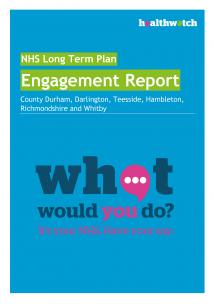 Summary
NHS England and NHS Improvement funded the Healthwatch network to carry out engagement with communities across the country to establish how the Long Term Plan (LTP) should be implemented locally.
Local Healthwatch worked together to find out what local people think. What people told us will be shared with the NHS and will be used to help develop the plan for our area.
This report contains feedback from members of the public in County Durham, Darlington, Teesside, Hambleton, Richmondshire and Whitby.
This report also contains a response from South Tees Clinical Commissioning Group (CCG).