Evaluation of the Audiology Department at James Cook University Hospital
We conducted an Enter & View at the Audiology Department at James Cook University Hospital to see how patients with hearing loss are supported.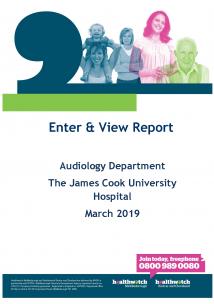 Summary
During 2017/2018 we carried out a consultation with the deaf community and produced a report summarising the key issues raised. We identified a potential lack of implementation of the Accessible Information Standard by NHS providers and Social Care Services, a lack of emergency provision of interpreting services, lack of deaf awareness with health professionals and little opportunity for deaf people to give feedback or make a complaint.
This year we have continued this work by asking organisations how they comply with the Accessible Information Standard.
A survey for patients was produced for them to complete during the visit which focussed on their communication needs and general experience. The Authorised Representatives spoke to patients in the waiting room prior to their appointment and supported them where necessary to complete surveys. In addition, we interviewed two Audiologists within the department and made several observations during the visit.
The overall feedback from patients using the Audiology department was very good with all patients rating their experience as positive.
Staff were also highly praised by patients which was reflected in our observations on the day.
This report also contains responses from the Audiology Department at James Cook University Hospital and South Tees Clincial Commissioning Group.
At the time of publishing this report, MVDA, in partnership with RCVDA held responsibility for delivering Healthwatch across South Tees.  Since 1 April 2020 Pioneering Care Partnership has assumed this responsibility and the contact details that are referred to within this report have now changed.  If you would like to contact us regarding this report, please use the details below.