Partnership Initiative With Libraries Across South Tees
Over the last few months, we have been exploring ideas to extend our reach and connect with more isolated and digitally excluded local people during the Covid pandemic.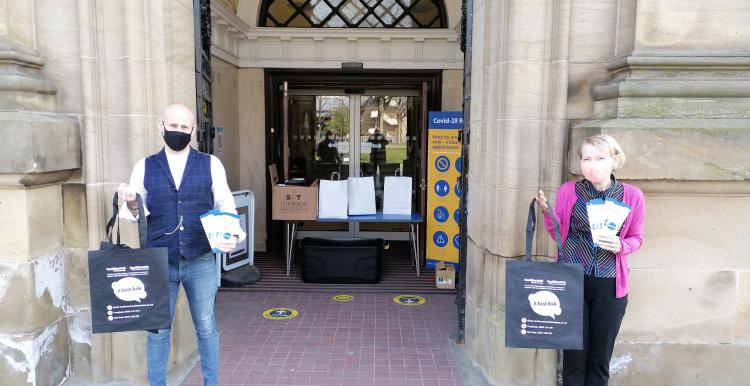 As a result of this work, we have struck up a fantastic partnership with both Redcar and Middlesbrough libraries.
It is hoped that - via more people knowing about our #JustAsk information and signposting service - they can contact us about any issues they may be having with local GP practices, hospitals and other medical services during what has been an uncertain and difficult time for all. 
The service provides:
a single point of contact offering trustworthy local care and health information
tells you what you can do if you are not getting the service you need (in the way that you need it)
and connects people to the most appropriate services.
To ensure we were reaching out to these people, we designed a range of tote bags and bookmarks, which were then given to representatives at both libraries.  
Together, we agreed that if we could provide information and contact details on reusable bags and bookmarks, library services would use these to disseminate books as part of their adapted service. Customers can keep the bookmarks, whilst the bags would be reused to return books, then safely recycled for the next drop off.
Julie Durdan of Dormanstown Library said: "People who use our service tend to be very isolated.  Many are older people or have underlying health conditions, so have felt very alone and vulnerable during the pandemic.
"When we drop off books to our customers, we always ask how they are and have a little chat on the doorstep. Using the bags and bookmarks from Healthwatch ensures they have the information they need to benefit from services to support their wellbeing."
These sentiments were echoed by staff at Middlesbrough library, who said they were looking forward to giving the information to their customers.
"The service has been really good for people during lockdown. Continuing to provide books so people have had something to look forward to has been essential.
"We have had people talking to us about their health over the last few months, so the services that Healthwatch South Tees provide will come in handy for them."
The project, which is expected to continue well after the governments planned roadmap to normality, will help us to extend our reach to around 1,000 people across South Tees.
So, with that in mind, we'd just like to say a big thank you to all concerned. We really appreciate the help and support you have given to progress this project.
(All merchandise has been joint funded by Healthwatch South Tees and the Pioneering Care Partnership)
If you would like to find out more about our Information and Signposting service, click here.