Community Engagement & Intelligence - U3A Middlesbrough
We attended the monthly meeting of the U3A, which is a UK movement of retired and semi-retired people who come together to continue their educational, social and creative interests in a friendly and informal environment.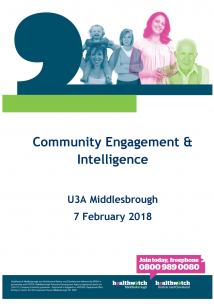 Summary
The purpose of our visit was to deliver a presentation about local Healthwatch, raising awareness of our role and giving the opportunity to attendees to share their experiences of local health and social care services. The meeting was attended by approximately 100 people.
As we were looking at referrals into the STAR Scheme (local GP Extended hours centres), we used this as an opportunity to assess people's awareness and experiences of the service.
We gave details about the extended hours service to ensure that all those attending could participate in our feedback activity. We promoted the service by providing printed off information with details about the service which could be taken away, this was greatly received by all. We distributed a questionnaire to all those attending, 79 people completed them. The results of the questionnaire can be found in the report.