Evaluation of Patient Experience at the South Tees Access & Response (STAR) Scheme
The STAR pilot extends evening and weekend opening times for patients from 6.30pm to 9.30pm Monday to Friday and 8am to 8pm on weekends and bank holidays to ensure patients get the right care, first time through a single point of access.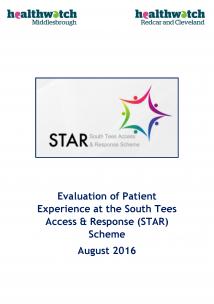 Summary
We gathered a wide range of feedback from the 95 patients who completed the questionnaire and patient interviews in the STAR hubs at Bentley Medical Practice and Linthorpe Surgery.
Most patients who we spoke to had nothing but praise about the service and the care they had received. However, it was brought to our attention that around half of the patients accessing the service had simply walked into one of the hubs without making an appointment via the NHS 111 phone line. We were pleased to see that all patients were given an appointment at the service even when they had not made an appointment but feel this issue will need to be addressed.
Our overall impression of the STAR service was very positive with patients highly recommending it to their family and friends and the majority of whom rated the location, ease of access, parking, and opening hours as 'excellent'.