Cancer Screening Uptake in Middlesbrough
We aimed to gather the views of local people who had accessed screening services and those who had not in order to determine what was working well and what could be improved in the current provision.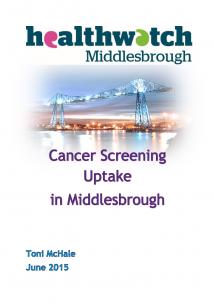 Middlesbrough Joint Health and Wellbeing Strategy 2013 - 2023 states that key causes of early death (and significant causes of illness) in Middlesbrough are cancer.
Early deaths from cancer have fallen less slowly in Middlesbrough than in England as a whole. Disease rates are generally higher in areas of greater deprivation (except breast cancer), as are the risk factors for these disease i.e. smoking, poor diet, lack of physical activity and alcohol. Tees Valley Public Health Shared Services show Middlesbrough have one of the lowest national uptake of all three national cancer screening schemes.
This inquiry aimed to ascertain from the public how a future service could better suit their needs and what would encourage more people to take up cancer screening. The findings formed the basis for the changes recommended in this report.
Following publication, we received responses from NHS South Tees Clinical Commissioning Group and Public Health Middlesbrough.