Access to Sexual Health Services in Middlesbrough
The aim of the investigation was to look at the public's experience in accessing Sexual Health Services in Middlesbrough. We wanted to ascertain what is currently working well, identify any gaps in services and look at what could be improved upon.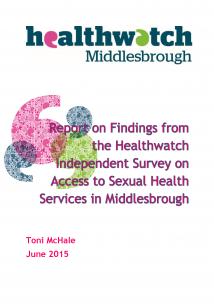 Summary
Sexual health services are free and available to everyone regardless of sex, age, ethnic origin and sexual orientation.
Sexual health services and advice are offered by:-
GPs
Contraception clinics (also known as family planning clinics)
Sexual health clinics
Sexually transmitted infection (STI) testing clinics
Genitourinary medicine (GUM) clinics
Pharmacies
Sexual assault referral centres
Young people's services
We gathered intelligence by:
Listening to the views of people who use local sexual health services, highlighting positives, negatives and possible gaps in service.
Supporting people to tell us how they would like services to be delivered in the future to better suit their needs.
Specifically listening to under-represented groups- young people and the asylum seeker and refugee communities.
Collecting qualitative intelligence gathered from focus group sessions in which people are supported to give full and precise comments about how they see the service being delivered in the future.
Collating findings to influence future commissioning.
Survey results:
When asked how they found out about sexual health service the most common responses from the 53 responses were from college or the Life Store.
79.25% of people who filled in the survey stated that the current services met their needs with 11.32% reporting that the services did not meet their needs.
When asked if there was anything stopping respondents from using the services 47.62% said it was the location of services with 28.57% saying that it was due to confidentiality issues of the service.
28.57% stated that the name of the service put them off using it, 0% selected attitude of staff.
This report received a response from Tees Valley Public Health Shared Service.