Teeswide Safeguarding Adults Board - Safeguarding Adults Week 2021
Teeswide Safeguarding Adults Board (TSAB) is the statutory body that sets the strategic direction for safeguarding adults.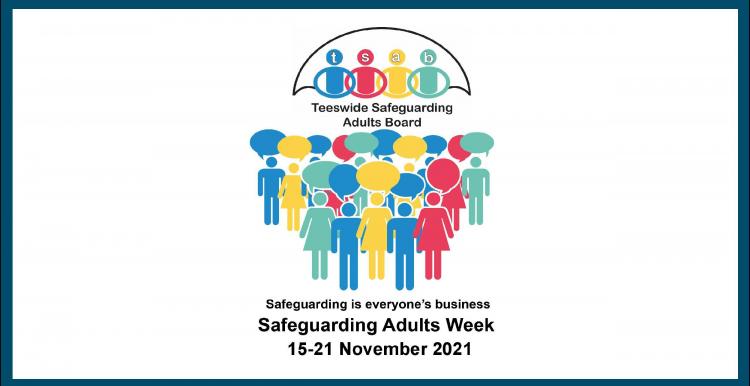 Teeswide Safeguarding Adults Board (TSAB) is the statutory body that sets the strategic direction for safeguarding adults.
The Board is responsible for protecting and promoting an adult's right to live an independent life, in safety, free from abuse and neglect in the Boroughs of Hartlepool, Middlesbrough, Redcar & Cleveland and Stockton-On-Tees.
Between 15 – 21 November this year, the board will be raising awareness of the annual Safeguarding Adults Week.
They will also be encouraging other organisations across Teesside to come together and highlight important safeguarding issues. The aim is to ensure that people understand key safeguarding issues, facilitate conversations and raise awareness of safeguarding best practice.
The theme for Safeguarding Adults Week 2021 is 'Creating Safer Cultures'
Promoting safer cultures is all about how organisations and individuals can take steps to minimise harm occurring in the first instance, whilst simultaneously ensuring correct policies and procedures are in place so that safeguarding concerns that are raised, are recognised and responded to effectively.
Safer Cultures focuses on:
Listening
Leading
Learning
Your organisation can help!
During the awareness week, TSAB will be sharing lots of helpful links, guides and information regarding safeguarding, so please follow, re-tweet, share and get involved on social media.
It's important to spread the word and make people aware of the options available to them.
Annual Survey
The TSAB Annual Consultation Survey aims to provide service users, professionals and members of the public with the opportunity to have their say and inform the Board's future priorities for safeguarding across Tees.
The survey covers particular questions, but if you have any specific issues or queries that you would like to raise or discuss, please contact their team directly by emailing: tsab.businessunit@stockton.gov.uk
Please see the links below for both professionals and the general public. There is also an easy to read document available.
Resources
If you would like to report abuse, please click here for information on emergency and social care services. TSAB also have their own concern form which you can fill out.
You can also find support in your area, discover more about the Safe Place Scheme and read all of TSAB's previous and upcoming newsletters, by clicking the links.
Please click here for explainer videos relating to safeguarding and prevent, organisational abuse or neglect, suicide prevention and modern slavery. 
The TSAB Annual report can also be found here.