Perimenopause Facebook Support Group (Gaynor's Blog)
"Can Perimenopause cause really bad anxiety and depression like you're going absolutely mad and you don't know what's happening and you get overwhelmed and feel just so so off and odd? I feel so far away from myself it's untrue!"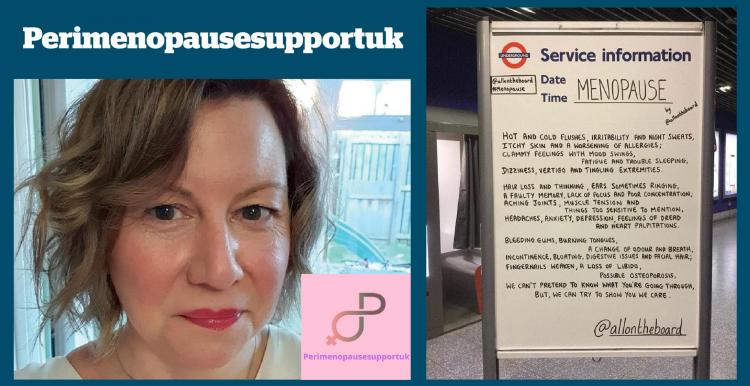 I'm a local Redcar 47-year Mum of two who was feeling absolutely exhausted and not quite myself for a while.  
I was constantly forgetting things and was more clumsy than usual.  I watched the Davina McCall documentary, about her experiences of menopause, and it was like a light bulb had been turned on for me.   
My mum had mentioned perimenopause to me about a year ago, but it wasn't a term I had ever heard of. Like most women, I thought I would one day start to go through the menopause once I hit my 50's and this meant that my periods would stop, and I'd get a bit hot and narky! 
The following day I looked on Facebook to see if there were any groups that could give me any advice or information about perimenopause and there was absolutely nothing.
This is when I decided to take the bull by the horns, with some of my friends, and set something up.  Initially, the focus of our decision to do this was primarily to give me and my friends a platform to share our experiences and offer peer support.   
This was back in May, when we had no idea of the enormity of how much other women also needed this and would want to become a part of our group. How wrong could we have been as the demand to become a member has skyrocketed and we now have over 1.9k members.   
Throughout the many conversations between group members, it has become clear that there are a number of areas that are failing women not just locally but nationally: 
Policy, awareness, understanding and support for women in the workplace is severely lacking. 
GP's need more specific training in this area of women's health in order to offer them a choice in medication that is tailored to their individual needs. 
Increased offers of support for women who are struggling with these changes and are finding it difficult to cope with these and a platform for peer support and share their stories so they don't feel alone. 
Increased awareness of the perimenopause and menopause in communities, families and women prior to them experiencing symptoms so they can be better educated and prepared. 
Currently this group is about sharing experiences and offering support between peers, but we are planning to encourage more professionals to become involved. 
We held our first virtual live session in July where we invited a nutritionist to answer questions from the group about eating healthier and how to reduce weight gain that is experienced by many women during this time. We have more of these sessions planned over the next few months. 
We are also planning to encourage local counsellors and MPs to get involved to raise the profile of these issues and drive policy change.  
The next step would then be to develop a relationship with the NHS so we can offer clinical advice through trusted sources and encourage them to identify improvements in the services they deliver. 
In addition to this we are becoming increasingly involved in an All Party Parliamentary Group (APPG) with a local Labour MP, Carolyn Harris, who is highlighting these issues in Parliament. I'm so pleased to have been asked to be involved so local experiences can be considered at this level for change. They have a twitter group called menopauseappg.  
Ultimately, our longer-term vision would be to develop and produce our own website that is full of relevant information for women to support their journeys as well as a section that men can access to support and inform their understanding too.  We would also like to include information in relation to NHS and private clinics women can access according to their geographical location.  
We just want women to know that they are not alone and whilst we are in the early stages of what we want to achieve there is support for you right now. Join our Facebook group – Perimenopause Support UK. 
Here's some testimonials from current South Tees group members:
"It has made such a difference to understand my own symptoms. It's highlighted that medical professionals don't always have an understanding in how they should be supporting women experiencing menopause. As women, we know our bodies and need to feel listened to. I also think this group allows us to discuss things in a safe space".
"Learning how unsupported so many women are, the disparity by geographical location and the belief that I'm not going mad, there is so much more I can still achieve, despite feeling like I'm less than worthless". 
"The opportunity to gain a better understanding of what I am going through and the shared sense that there are others going through the same and also much worse. There is a rising anger at the lack of national and local support through GP's and other settings which is absolutely disgraceful and using our collective voices, we can change things, so it is better for future generations to come". 
"It's frustrating to see how many women are being let down by the NHS, being misdiagnosed or not taken seriously. This needs to change as it is something that every woman will go through at some stage of their life".
"Knowing there is a friendly, non-judgemental place that contains so much information that is available, when I choose to access it".